RESOURCES
Below you will find a growing list of topics with resources and study tools for each.
Continue to check back periodically for updates and additions.
As you can rightly imagine, the resources below express many specific views and opinions from the authors on many subjects and may not necessarily reflect the view of ember.
— Click on the titles or images below for a link to purchase the books or listen to podcasts. —
__________________________________________________________________________________________________________
#Wholeness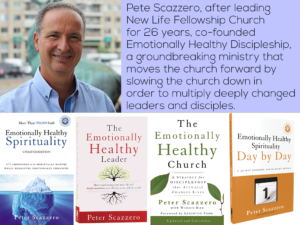 In this revised bestselling book, Peter Scazzero outlines a roadmap for discipleship with Jesus that is powerfully transformative. He unveils what's wrong with our current definition of "spiritual growth" and offers not only a model of spirituality that actually works, but seven steps to change that will help you experience authentic faith and hunger for God.
In The Emotionally Healthy Leader, bestselling author Peter Scazzero shows leaders how to develop a deep, inner life with Christ, examining its profound implications for surviving stress, planning and decision making, building teams, creating healthy culture, influencing others, and much more.
The Emotionally Healthy Church, Expanded Edition, the newly updated and expanded edition of the groundbreaking bestseller The Emotionally Healthy Church, features a fuller, deeper look at the six principles contained in the original and includes a crucial, additional chapter: Slow Down to Lead with Integrity.
Based on his bestselling book Emotionally Healthy Spirituality, this 40-day devotional by Peter Scazzero is your guide to more intentional, meaningful, life-changing communion with God.
A weekly podcast with an emphasis on becoming an emotionally healthy leader.