Join us every Sunday at 10:30am!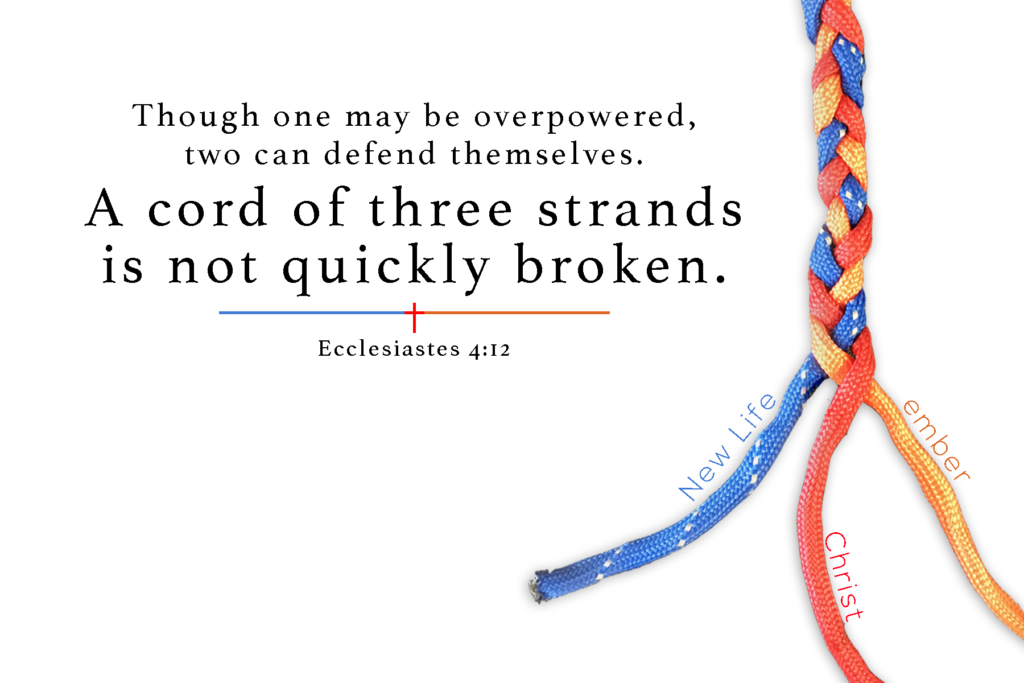 The joining of New Life and ember is not considered a merger, but a marriage…two very different things. A merger forgets the lesser and uplifts the greater. A marriage lifts up both parties and utilizes the strengths of each. As such, we have committed ourselves to each other for life! Read our vows and charge below: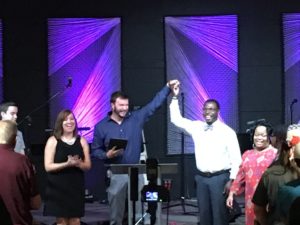 Vows from Pastor Kevin
To New Life and ember:

Do you take each other as brothers and sisters in Christ? Family? One family in Christ?
Do you promise to walk by faith in honesty, respect, and trust
To help and care for each other, to share life with each other
To be humble, gentle and patient, showing tolerance for each other
To forgive each other as we have been forgiven
To maintain love and unity
To regard each other as more important than yourself
To look out for the interests of others
To share your gifts, talents and abilities causing the growth of the body for the building of itself in love
Through the better and the worst of what is to come
As long as we live
If you will say "I do"
What God has brought together, let no man separate!
I now pronounce us to be not two churches but one church in Christ
Charge from Pastor Demorrious
Hand in hand as we enter into this Union, hand in hand we step out in Faith. The hand you freely give each other, ember and New Life, you enter into this Covenant, and hand in hand you step out in faith. The hand you freely give to each other is both the strongest and the tenderest part of the body. In the years ahead, you will need both strength and tenderness. Be firm in our commitment to each other. Be Firm in the Commitment to the person sitting next to you, the person that is across from you. Be Committed to them. Be Firm in Your Commitment to them! Don't let your grip become weak. When you want to give up, when you hear chatter, when you think that God isn't moving, don't get weak. Continue to be steadfastly unmovable always abounding in the work of the Lord! And yet, be flexible as you go through change. Don't let your hold become intolerable. Strength and tenderness, firm commitment and flexibility, of such is a Covenant made. Hand in hand I also ask that you remember that you don't walk this walk alone. Don't be afraid to reach out to each other when things get difficult. Don't be afraid to ask the hard questions because that's how we begin to tear down the racial barriers. Don't be afraid to sit at the table and get an understanding of someone who may not look like you because that's how we usher people in the presence of God by being willing to sit down and listen to one another. To accept this hand is not a signal of weakness it's not an admission that you can't do things by yourself, but it is an admission that by faith we can do more together. Behind us, underneath us and around us the Lord is reaching out his arms hugging us. So, as we are holding the hand next to us we will continue to hold on to God's unchanging hand! A hand that we will one day shake as we stand at the gates. We'll hear Him say come In, well done thy good and thy faithful servant. We commit this Union of Ministry together that we might marry each other in the spirit but operate here in the Earth! In Jesus Name, Amen!

Join us every Sunday at 10:30am
We're located in the Chester Crossing complex, next to Roses Express.
1841 JA Cochran Bypass
Chester, SC 29706